Our Shuttle Informationen
Andi´s Taxi Shuttle from/to Salzburg Airport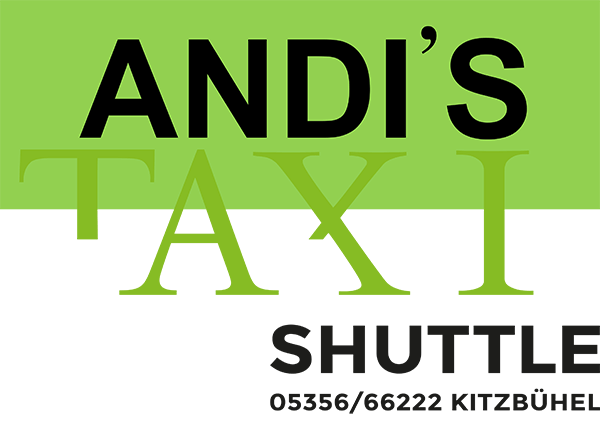 Shuttle Pickupsign SalzburgAll guests will be met at the exit gate with this sign. If you cannot see the sign, please go to the information desk in the arrivals hall and contact us on +43 (0)5356 66222.
The Andi´s Taxi Shuttle brings guests from Salzburg Airport for €45 or €60 per person* one way for the start of your holiday direct to the Hotel and on the day of departure straight from the Hotel to Salzburg Airport. Minimum of 2 people. Easy, comfortable and a super price.

We will take you direct to your accommodation in the following Villages for the price of €45 per Person* per way.
Kitzbühel, Reith bei Kitzbühel, Aurach, Jochberg
Brixen im Thale, Kirchberg, Westendorf
St. Johann in Tirol, Oberndorf, Kirchdorf, Erpfendorf, Waidring
Going, Ellmau, Scheffau, Söll
For just € 60 pro Person* per way the following Villages are available:
Booking: Online at least 48hrs before the start of the Transfer and is valid only after confirmation from Andi's Taxi!

Transfer Start on Arrival: Latest 90 Minutes after arriving in the arrivals hall.
Transfer on Departure: Guests are kindly requested to call Andi's Taxi the day before departure to confirm their individual pickup times. Office Hours are 8am to 6pm! Tel: +43 (0)5356 66222

This offer of €45 or €60* per Person per way is available for all flights to and from Salzburg Airport. Children up to 6 years €30, and there is no extra charge for luggage.

Wörgl, Angath, Kirchbichl, Angerberg, Mariastein
Hopfgarten, Kelchsau, Itter
St.Ulrich a.P., St.Jakob i.H., Fieberbrunn, Hochfilzen
A Shuttle Taxi is not a Private Taxi but a Shared Taxi. The exact timing, route, number of passengers, size of car etc. will be decided by Andi's Taxi.
In extreme cases, such as Road Closures, Flights Deviations, Weather etc it could be possible that waiting time and transfer times will be extended.
Upon receiving correct flight times, Andi's Taxi guarantees enough check-in time on arrival at Salzburg Airport (except for Natural Disasters). When more transfers are combined it is possible that arrival at the Airport is earlier. (The waiting time of 60 mins is not applicable.)
We cannot guarantee everyone a place on the Shuttle. It could happen that all cars and buses are full! Please book early to avoid disappointment!
Minimum 2 persons. If there is no other booking within 1 hour after the landing, the minimum price is € 80.-
Please Note
Andi's Taxi can also offer Private Taxis (Mercedes Cars or VW Minibuses) to and from other airports. These include as well as Salzburg, Innsbruck and Munich.
Here's wishing you a pleasant and comfortable Holiday Shuttle.

* Minimum of 2 people.